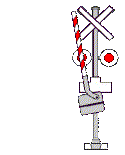 TRAINS! STEAM ENGINES!

Photos out of Greg & Susan Robinson's
Grand Scale Quarterly Magazine!
Greg Playing with our Grand Scale
Living Steam engine "BUBBA"
3/24/2000 - Congratulations Greg and Susan (and Graham) on your new glossy magazine! It just keeps getting better and better!
We are helping Greg & Susan Robinson get the news of their new magazine out on the internet! 12" plus Gauge trains.
Only $20/year U.S. & $25 international! Robinson & Associates P.O. Box 8953, Red Bluff CA 96080 USA. 530-527-0141 Fax: 530-527-0420 Editor: Greg Robinson. OR SEND GREG & SUSAN EMAIL mainline@sunset.net To subscribe!
Better yet! Visit GRAND SCALES QUARTERLY MAGAZINE'S NEW WEB SITE

Please let them know you saw it here on Doc & Becky Hemp's BAD Charitots Pages!
These photos below are higher quality JPEGS so you can read the text. So they will take a while longer to download. It is well worth the wait! Please get a cup of coffee or a beer, go out and adjust your Penberthy Lifting Steam Injector, .. put your feet up & get ready for a real treat!


---
---
This site is part of and made possible by the B.A.D. Chariots and Dental Site Homepage! Please visit Dave & Becky's other 150 urls there (over 1 million visits!) after visiting this train page. Also visit our hi-tech Music Room And our Our Living Steam mpeg Movies ... Works on almost all computers!